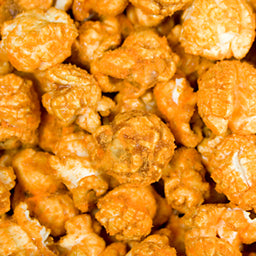 Chicago Style Kettlekorn
Small - 4 Cups
Medium - 12 Cups
We take our deliciously sweet and crunchy fresh popped caramel corn hot out of the kettle, then tumble in our savory cheddar cheese all over it to create a unique treat unlike anything else we offer. This is a true snacker's delight, and the flavor that most of our experienced popcornistas go straight for when they come in.

It's hard to understand what is so good about mixing Caramel and Cheddar Cheese, it sounds weird, it feels like something you just shouldn't do. Trust all of us here at Maw N Paw when we tell you that's how we all felt initially. Something happens though when you combine those two flavors that you just cant match with anything else. It takes the best that both have to offer, and turns it into a powerhouse snack that knocks the socks off of all other snacks on the market.

If you are ever in our shop and aren't already hooked on this flavor, ask for a sample. Most people that try Chicago Korn can't believe how much they end up liking it. It's a must try flavor! 
---
Share this Product
---
More from this collection