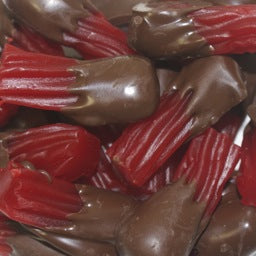 Dark Chocolate Dipped Australian Strawberry Licorice
One of the only ways you can take top quality Kookaburra brand Australian Strawberry licorice and give it an extra notch towards perfection is to dip each piece into our top quality Dark Chocolate. If you've never had the plain version of this licorice before, stop now and get some in our candy section! For those of you ready to enough to have had it, look no further. Our Dark Chocolate Dipped Australian Licorice builds upon what is already considered the best. We dip these in small batches to ensure that each bag is as fresh as possible. Between this one and its White Chocolate Dipped cousin, you may never buy another brand again.
Packaged in 6.0 oz bags.
---
Share this Product
---
More from this collection